Why Trade Cryptocurrency at Lykke?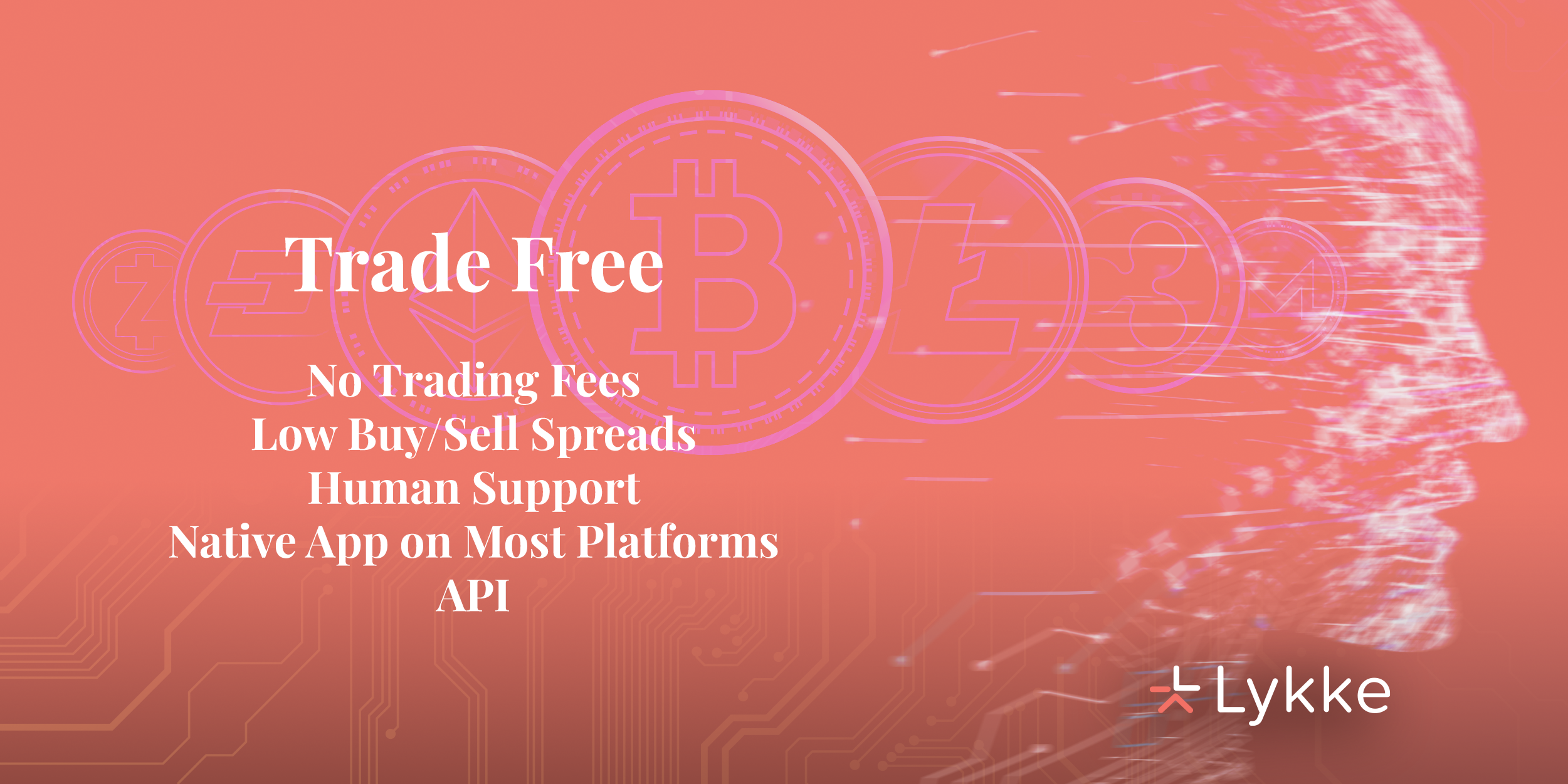 Lykke Wallet is an all-in-one free crypto trading platform (app and web interface) with zero trading fees and low buy-sell spreads. It offers 20+ selected cryptocurrencies with liquidity and multiple crypto-to-fiat pairs. Deposit as little as 50 EUR / GBP / CHF / USD by bank transfer. Lykke is the only crypto exchange platform that covers the bank deposit and withdrawal fees for its customers! This is how you can trade cryptocurrency absolutely for free on Lykke crypto exchange.
To make a long story short, we are different from mainstream crypto exchanges because we cover your fiat deposit bank fees (unless there are correspondent bank fees), we offer zero taker and maker fees, solid liquidity and low spreads, and we cover your fiat bank withdrawal fees (unless there are correspondent bank fees), which allows you to trade crypto for free. And all this with the security, KYC and AML compliance standards of a centralized exchange. Our support is human, it's a high quality personalized service and not bots like on a mainstream exchange. In sum, no other crypto trading venue has such a constellation of beneficial trading conditions.
Lykke was founded by Richard Olsen, formerly the founder of OANDA which was a true revolution in high-frequency finance at its time. Now it is a leading global forex broker that has been on the market for more than 25 years. Lykke is its conceptual evolution that leverages blockchain technology and research-based financial engineering. It has been on the market since 2015 and has gained a solid reputation of a cryptocurrency trading venue with high standards of transparency and security, as well as the already mentioned unique cryptocurrency trading conditions.
Apart from the trading conditions as such, the Lykke crypto exchange combines a number of features that make our platform an all-in-one solution for all kinds of cryptocurrency and forex traders:
Direct fiat on-ramp and off-ramp:
Deposit and withdraw EUR, CHF, USD, and GBP by bank transfer without fees (except USD withdrawals).
Use the platform of your choice:
Web interface or Android / iOS / Huawei app. You can also connect your trading bot through our API.
Widely accessible:
Very low trading limits. We admit users from 117 countries.
Lots of crypto and forex pairs:
We offer some 20+ selected cryptocurrencies with liquidity and fiat-to-crypto or fiat-to-fiat pairs, and the list is growing!
Trading with no headache: 
Choose between market and limit orders and take advantage of the 0% trading fee.
No inactivity or other hidden fees, all the costs are totally transparent.
HFT or algo trading friendly:
Lykke Wallet is one of the very few exchanges that offer 0 taker and 0 maker fees to API traders.
Accessible and efficient human support: 
We do not hide behind the bots! Contact our support and our officers will do their best to resolve your doubts or difficulties.
Robust architecture resistant to trading peaks:
When other crypto exchanges' servers get overloaded during trading hype peaks, the Lykke Wallet platform keeps on transaction processing thanks to our scalable infrastructure.
And not to forget...
Free crypto trading:
The cost of transactions is much lower than the market average: the price that you set in your limit order is the final transaction price, and there's no trading fee on top of it. This is how Lykke creates conditions for its customers to trade cryptocurrency for free.